Genshin influence is an Action RPG developed and published by HoYoverse (Initially miHoYo) was released on September 28, 2020 for Android, iOS, windows and PlayStation 4. Since it's a free-to-play game, Genshin's monetization strategy is entirely based on microtransactions used to speed up some of the game's elements, and mainly on its character's gacha system.
development and adoption
When then-miHoyo began development of Genshin Impact in January 2017, the studio already had a strong product on the market: Honkai Impact 3rd. However, the title focused more on short combat missions and lacked overworld areas to explore until early 2019.
Unlike Honkai, Genshin strives to be an action RPG that is much more focused on a built world that may be less dependent on the traditional quest hubs of most mobile games. According to the studio, The Legend of Zelda: Breath of the Wild One of the team's main inspirations, and the comparisons were certainly expected.
Credit: HoYoverse / Nintendo
With an initial budget of $100 million, Genshin ranks as one of the most expensive games in the gaming industry as a whole, not just in the mobile segment. Despite being a free-to-play game with a very high production cost, the internal monetization system brought in $60 million in the first week alone. At the end of the second month, Genshin's revenue was about four times its production cost.
With the success of Genshin, the developer has not left Honkai aside, but has made the action its flagship, allocating an expected budget of 200 million USD per year for the continued development of the RPG.
In 2021, HoYoverse released a version of Genshin Impact for the PlayStation 5, which the developers said delayed console release plans. Xbox and Nintendo Switch. Although originally announced for all platforms, these versions have not appeared in company announcements for several months, suggesting the possibility of their cancellation.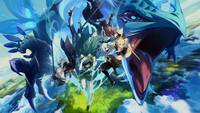 launch

28.09.2020

Publisher

miHoYo

developer

miHoYo