After three years of waiting and many delays, Digimon Survive is now available on PS4. The new franchise experience, now presented from an unprecedented perspective of characters, contexts and systems, combines the many elements of the game into a veritable fruit salad, but leaves pieces along the way with every step taken.
And when we talk about the remaining "piece", it is a real piece, not just a fragment. This is because the identity leaps developed by HYDE are very large. I did not understand? Well, the game constantly changes its difficulty, atmosphere, style and even visual details, as a teenager is still not sure what he wants.
And maybe this lack of willpower, not having its own concept is the biggest sin of a very promising game, relatively fun and full of information. Because this is a problem that sooner or later begins to affect several other things in the game, including the desire to pay attention to the story and the decision to skip dialogues and cutscenes.
Lots of criticism and few positives? Not even. The in-game benefits are exceptional, especially for fans of the franchise. And worth noting: Digimon Survive is the "most Digimon" title ever released in games in the entire history of the series.
Digichosen is back in the "digital" world
In 2020, a series of events is taking place in one Japanese city. Landslides appear in newspapers and worry residents, especially after the first reports of disappearances. A group of curious young people decide to investigate on their own and try to do something to save their friends from school who are supposed to be affected by the tragedy.
After speaking with more experienced people, Takuma Momozuka and his friends are taken to a mysterious shrine where ancient legends link the holy place with the existence of "".Kemonogami", beings who were worshiped and performed child sacrifices to prevent invasion of the parallel reality.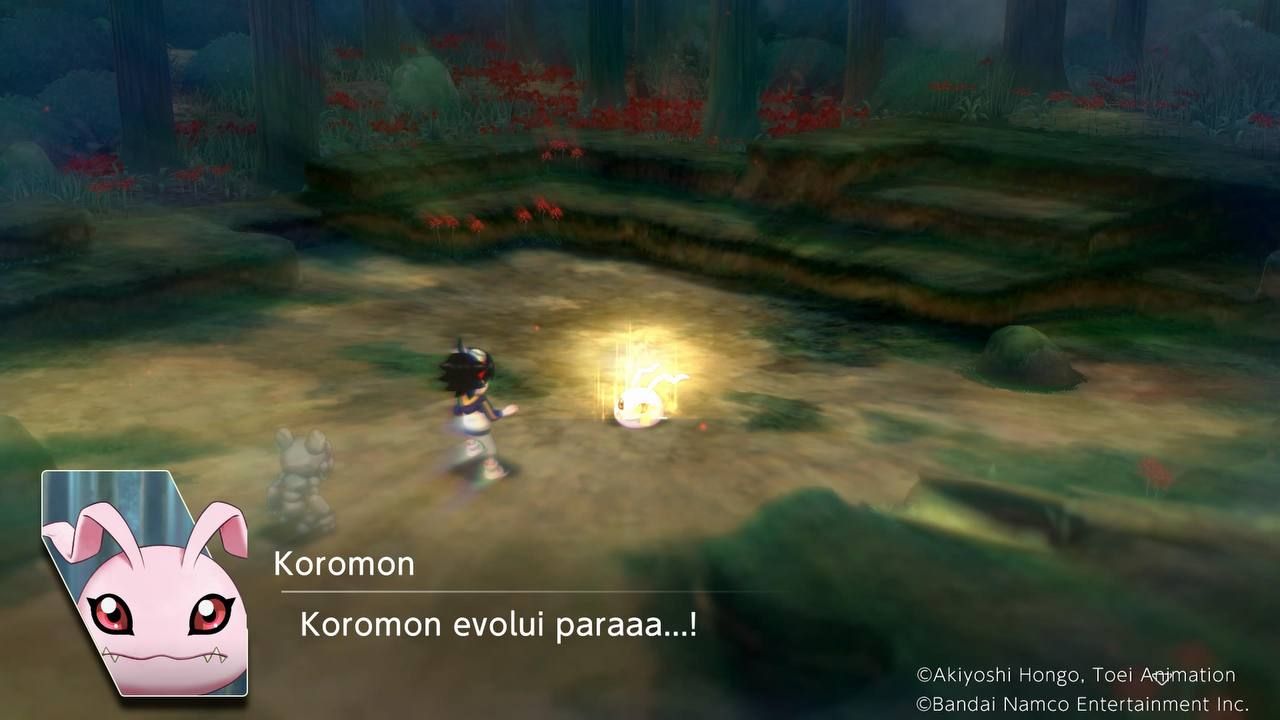 Terrified by the idea but curious, the teenagers leave the historical research camp when they are suddenly absorbed by a portal. Now transported to a different reality, they must find a way to return home, all the while doomed to eradicate a major threat to the kingdom.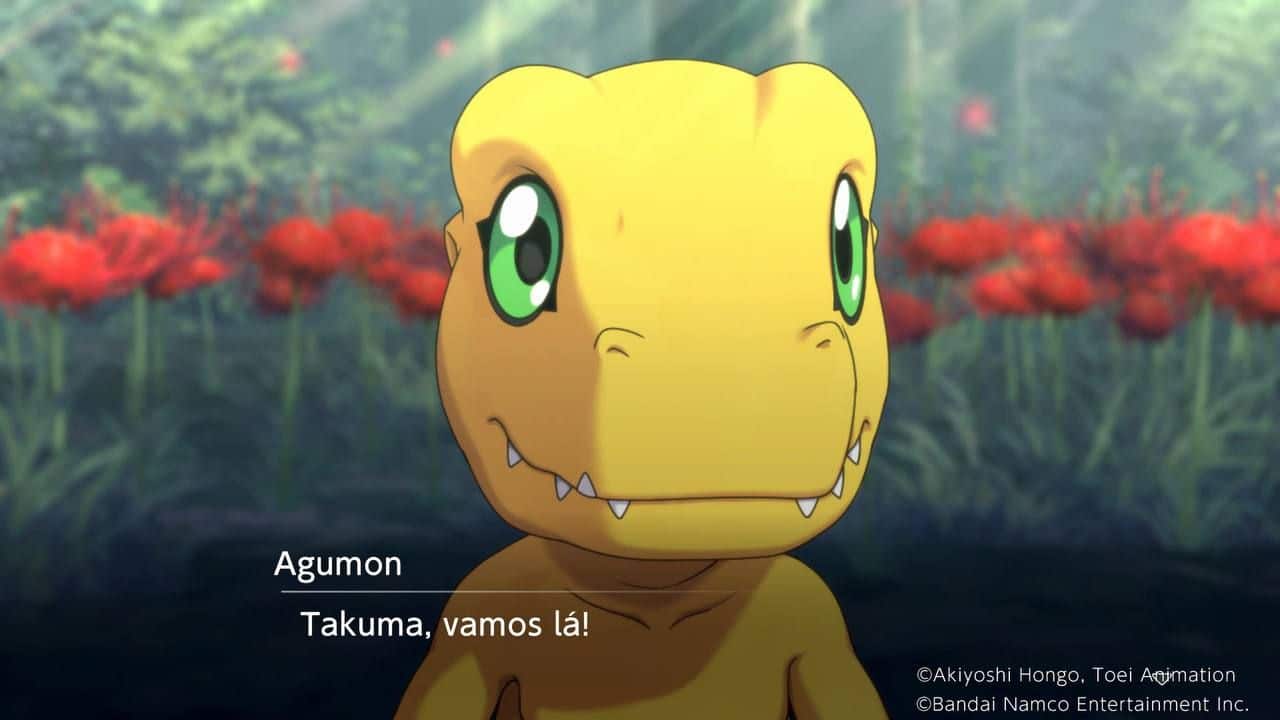 Fortunately, Takuma, Aoi, Minoru, Ryo, Saki, Shuji, Kaito and Miu will be by their side as invaluable companions and determined to protect them. Agumon, Labramon, Falcomon, and Floramon are just a few of the names HYDE remembers, among the many other new stages and absurd evolutions revealed at key moments in the campaign.
Dialogues, dialogues and dialogues… but we have a story
Digimon Survive revolutionizes every aspect of the game franchise, but has the narrative model as the most important. As in the Steins;Gate, Psycho-Pass, and Danganronpa series, the game consists almost entirely of a visual novel system that combines RPG mechanics with RTS combat dynamics.
However, the moments of interconnection of systems are disproportionate. On a rough scale, we can weight the visual novel as about 80% of the gameplay, while RPG management takes about 5%, while tactical combat keeps the remaining 15%. The result of this is clearly some alienation, mainly due to older fans.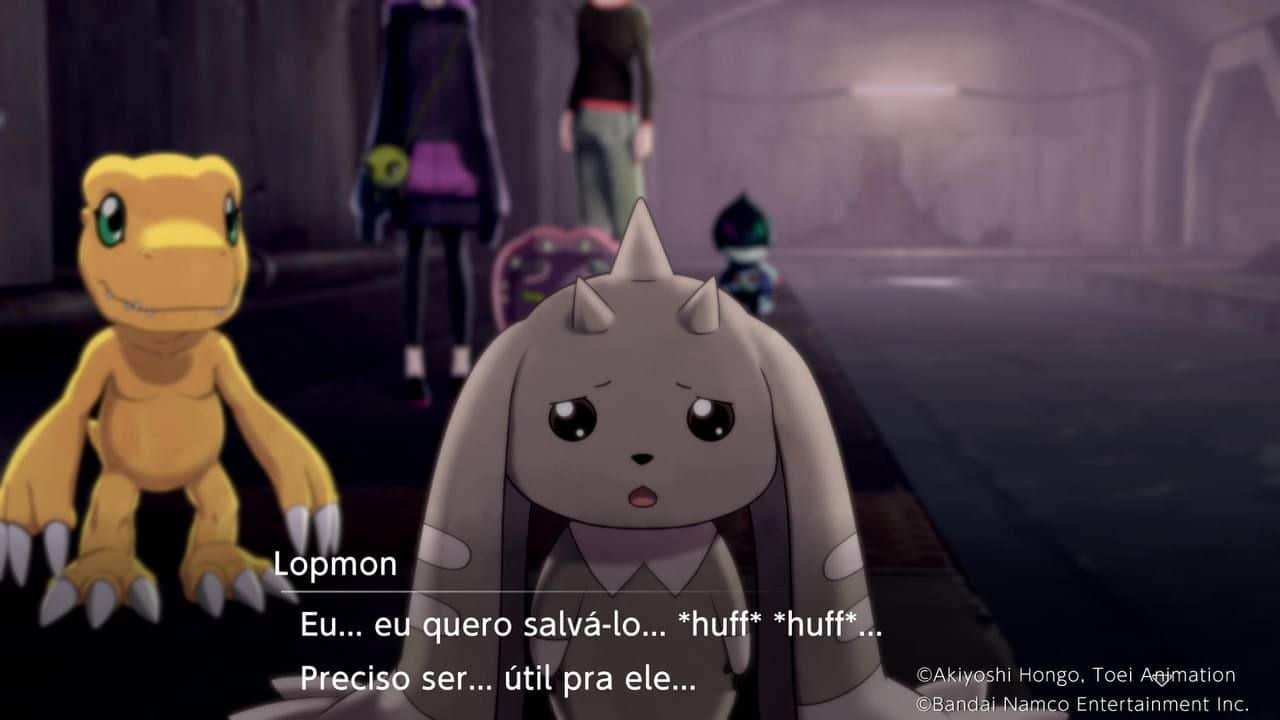 At times, the game is very tedious, especially when the story takes advantage of moments of "free action" and exploration. At this point, players must jump between dungeon rooms to investigate and chat with other teammates. However, a lot of time ends up on superficial issues to get things, karma and affinity.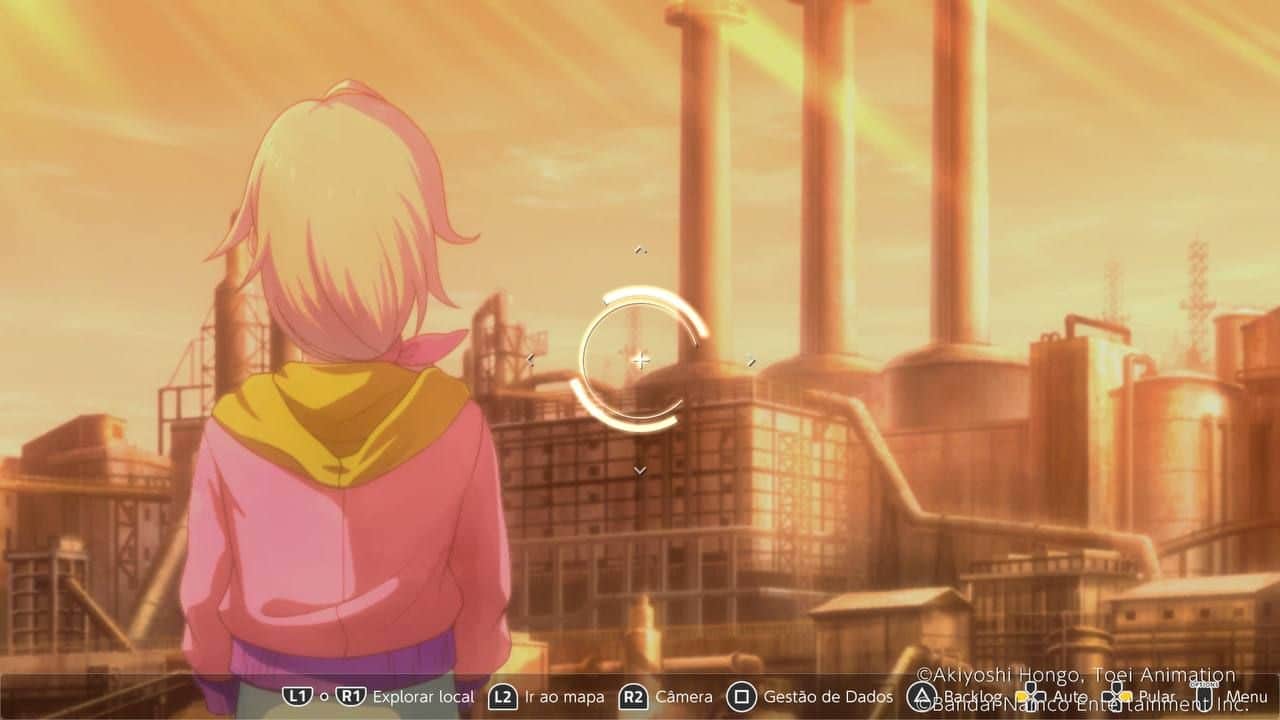 In this case, the story makes players even more invested in the conversations, as three fundamental gameplay mechanics are based on the responses given to friends. However, moments of "escape" are rare, and in most cases, keeping in touch with other characters is enough to learn more about Digimon mythology.
Karma and Kinship: This is how we evolve
Karma and Affinity elements are the main characteristics that the system uses to evolve Digimon. Unfortunately, they're under-explored by the game and can be difficult to understand, both because there's no practical lesson on their implications in the campaign and because they don't maintain any sort of pattern when choosing.
For heavier players looking for their own play style, this is a win-win. in the first launch, these mysteries, obscured by the visual novel system, really make for a more unpredictable campaign. This is necessary especially until the 7th part of the game, due to the lack of difficulty, even on the "hard" level.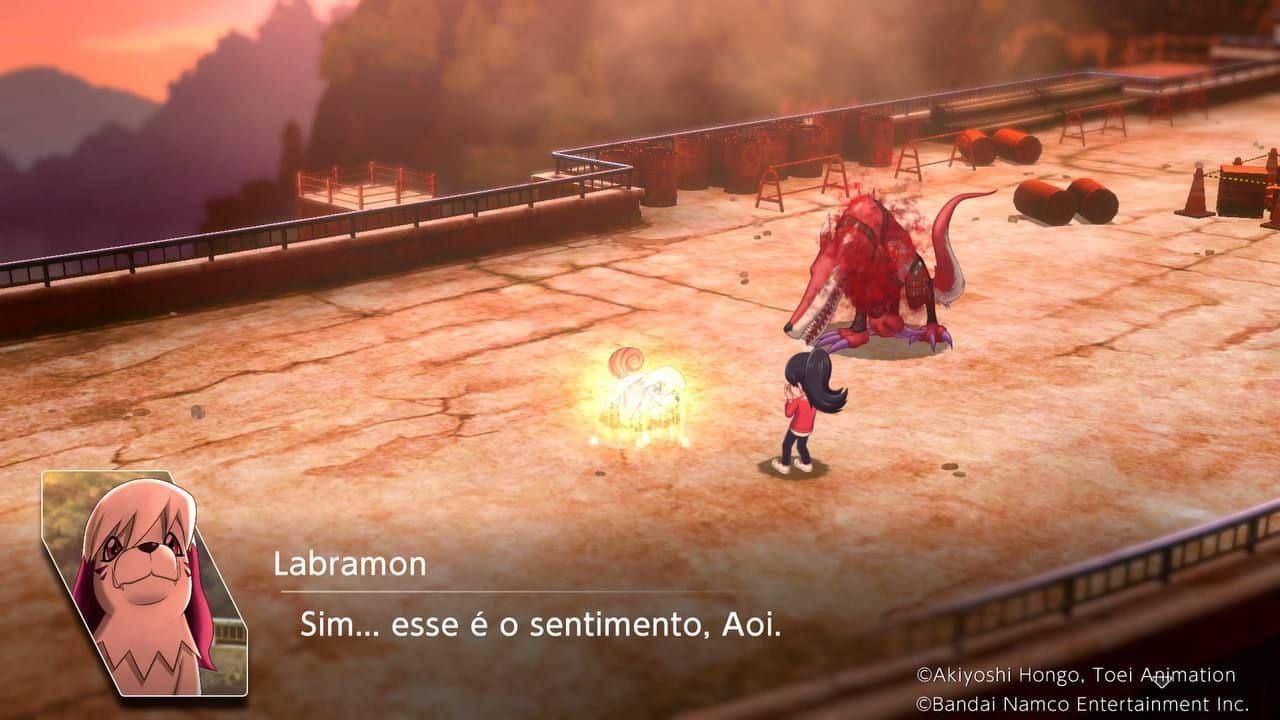 Karma results from individual choices, with another character, or in a team. It is associated with three dialogue options, with "Harmonious" on the right, "Cholera" on the top, and "Morality" on the left. These decisions determine not only one of the game's three endings, but also the level of friendship with the Digimon, as each of them can make it easier or harder to gather creatures during battles.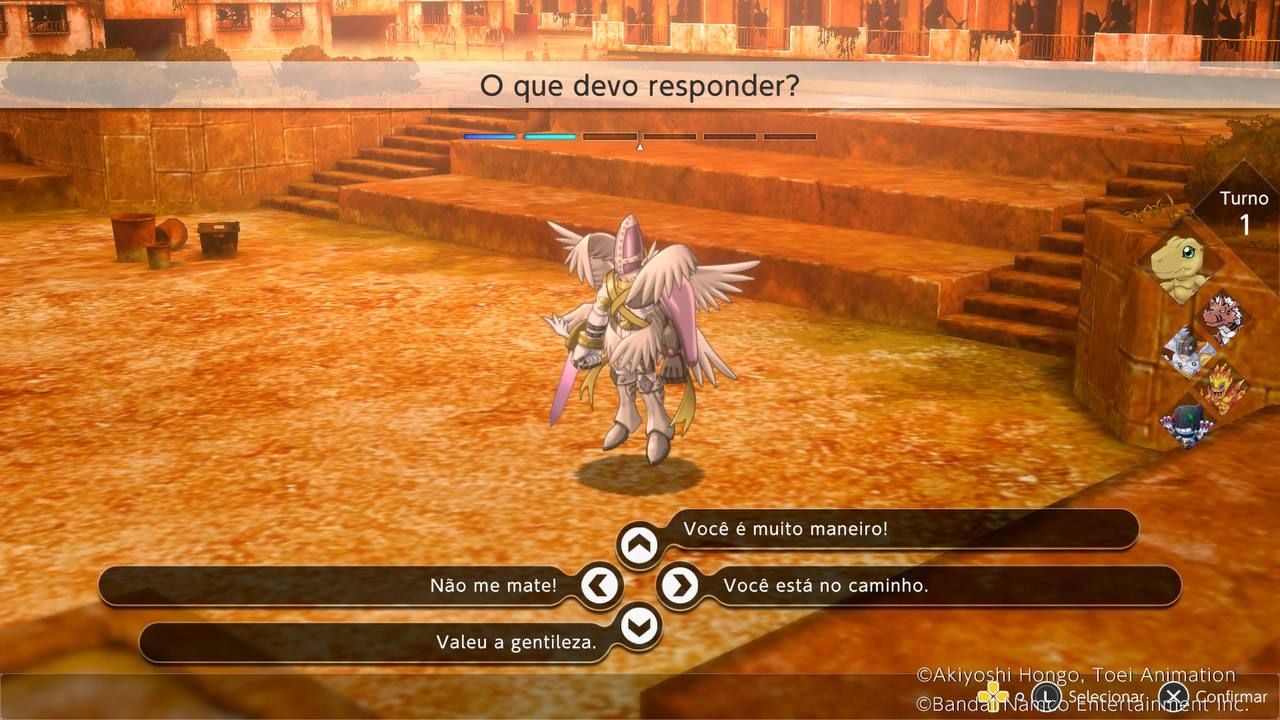 "Harmonic" favors the evolution and recruitment of "Data" digimon, which is characterized by a high level of support in battles. "Wrath" allows friendship and growth of "Virus" type monsters with high attack power and "tank" qualities. Finally, "morality" is related to "vaccine" type entities where the members are balanced.
Affinity is different. It is a friendship meter with other members of the DigiDestined team. The higher the "heart" level, the more each character's Digimon will evolve. For example, to reach the "mega" level with each creature, it is necessary to have at least 70 points with their owners.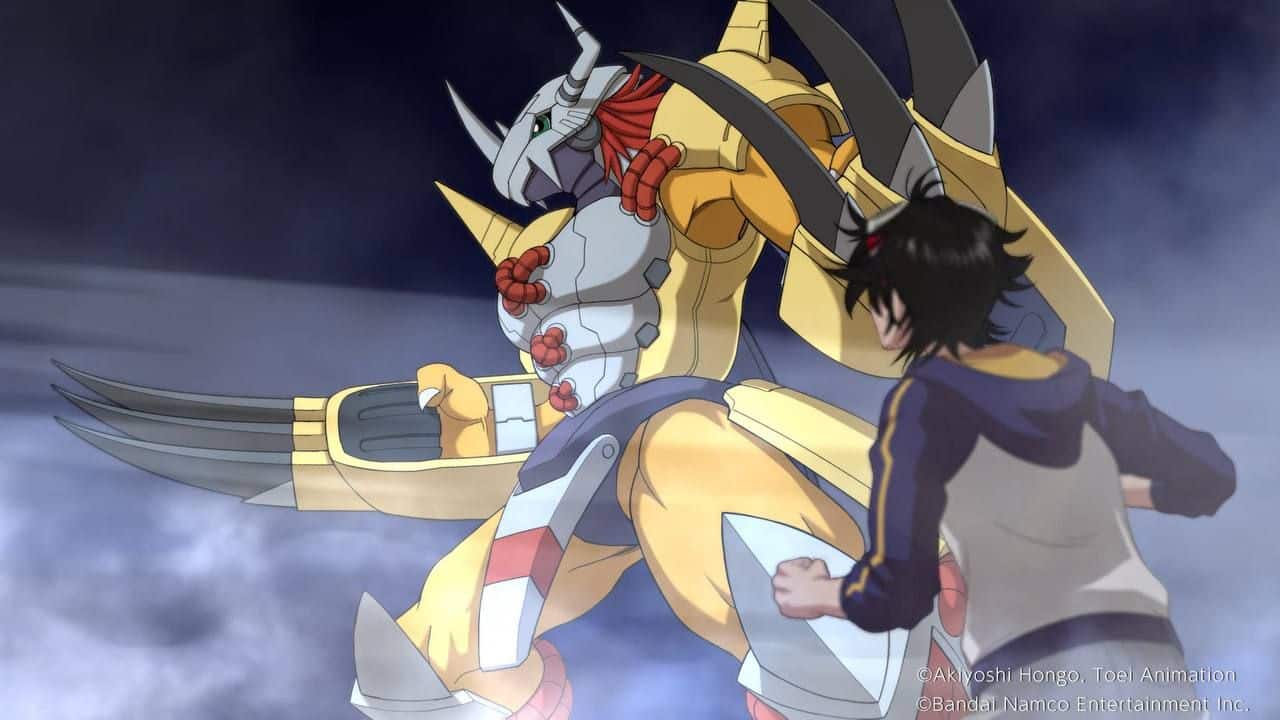 These systems are used continuously and determine all campaign results. Having highly evolved companions makes fights much easier and gives access to new types of creatures. As the difficulty of the game goes from 8 to 80 after part 7 – with an epic encounter in between – a few hours are necessary to improve karma and affinity.
Are there RPGs? And the tactician?
Answer to the first question: Yes, RPGs exist. Progression in Digimon Survive definitely feels like an improvement. At the end of battles, all Digimon – dead or alive – gain experience and improve their HP, SP (special power gauge), defense, stamina and more.
In addition, items and accessories play a major role in the game. Items can be used once in battles to restore health, heal unwanted effects, and more, while there are other special properties that permanently boost the attributes of some creatures. In the meantime, there are ways to use accessories in the main menu that help with new powers.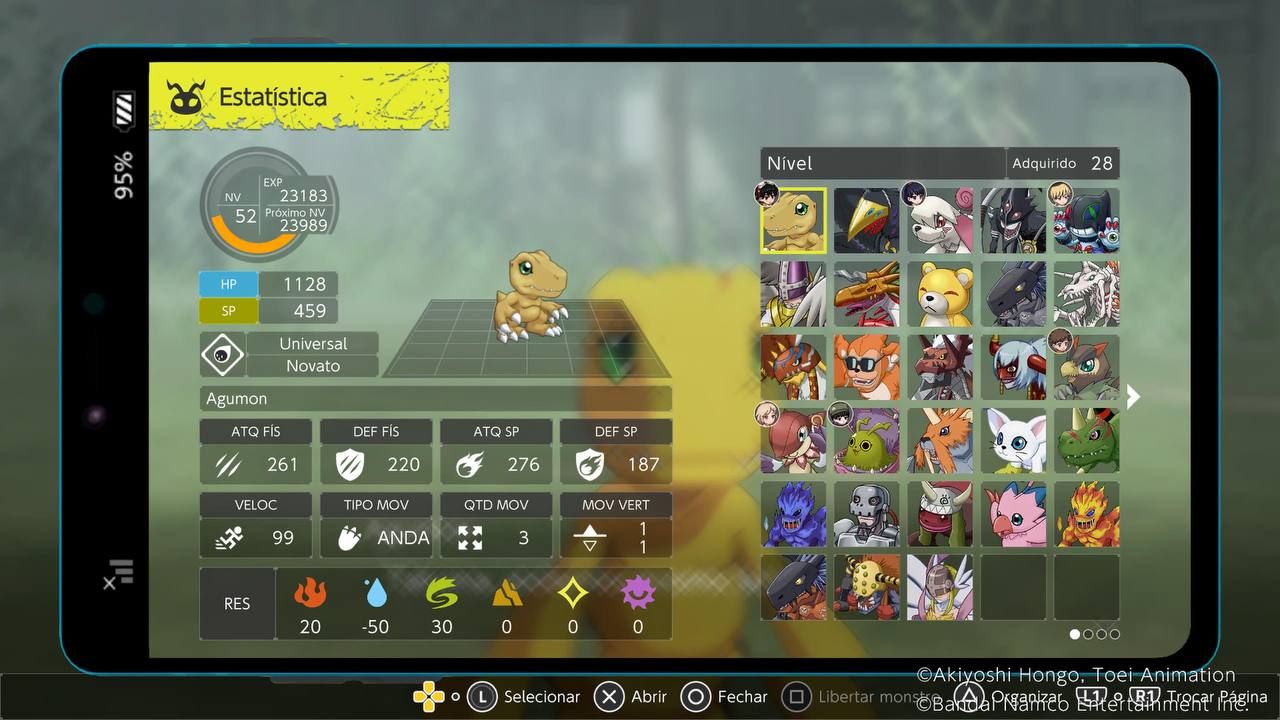 The party consists of six Digimon and it's worth learning how they help each other in battle. In the game, it's important to keep the team together at all times, as some members provide constant HP and SP recovery from anyone nearby. In addition, there are combo attacks that deal colossal damage against an enemy when surrounded.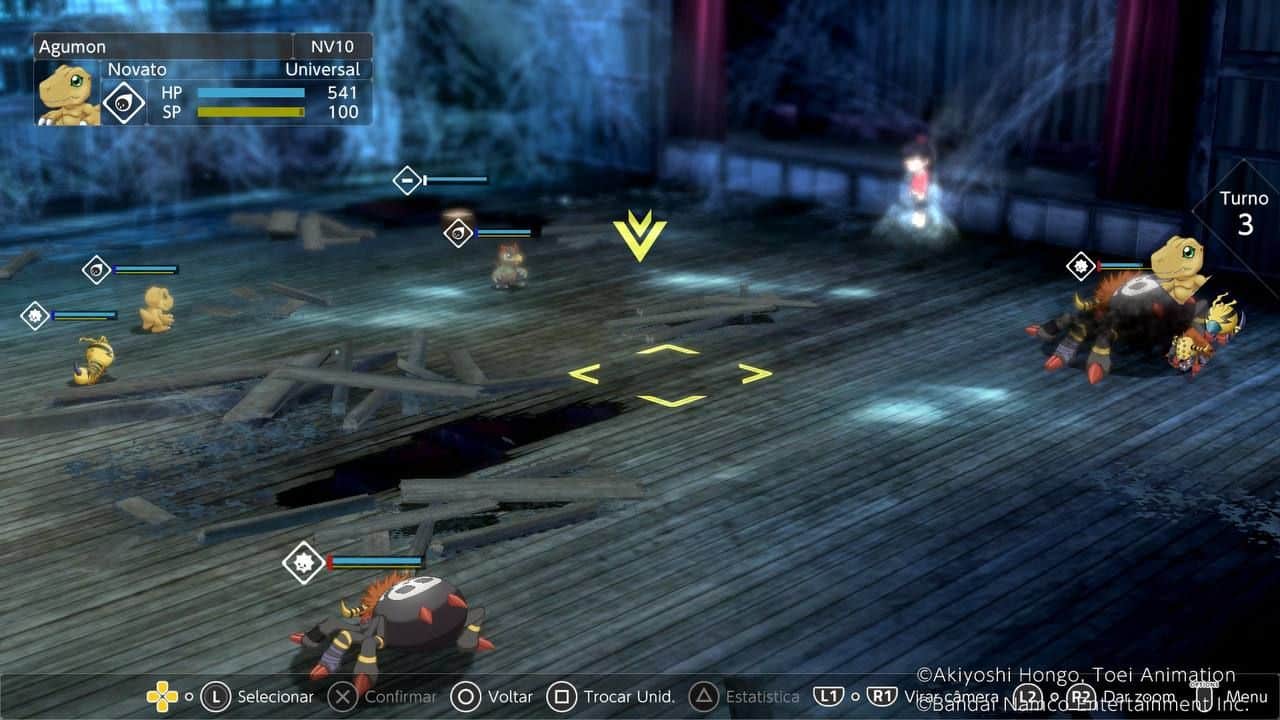 Another innovation is the capture system. This mechanic is similar to the Pokemon games, but it is implemented through conversations in free battles or random encounters. To friend friends, just answer three questions correctly after selecting "chat". If you get it right, there's a chance – as a percentage – that the enemy will agree to be your friend.
However, when it comes to the tactical system, Digimon Survive is disappointing. Don't expect anywhere near the same IQ as XCOM, for example. Battles in Bandai Namco's game don't require much intelligence and simply go all out on opponents; No strategy or anything. You'll take a little damage, but you'll still win easily.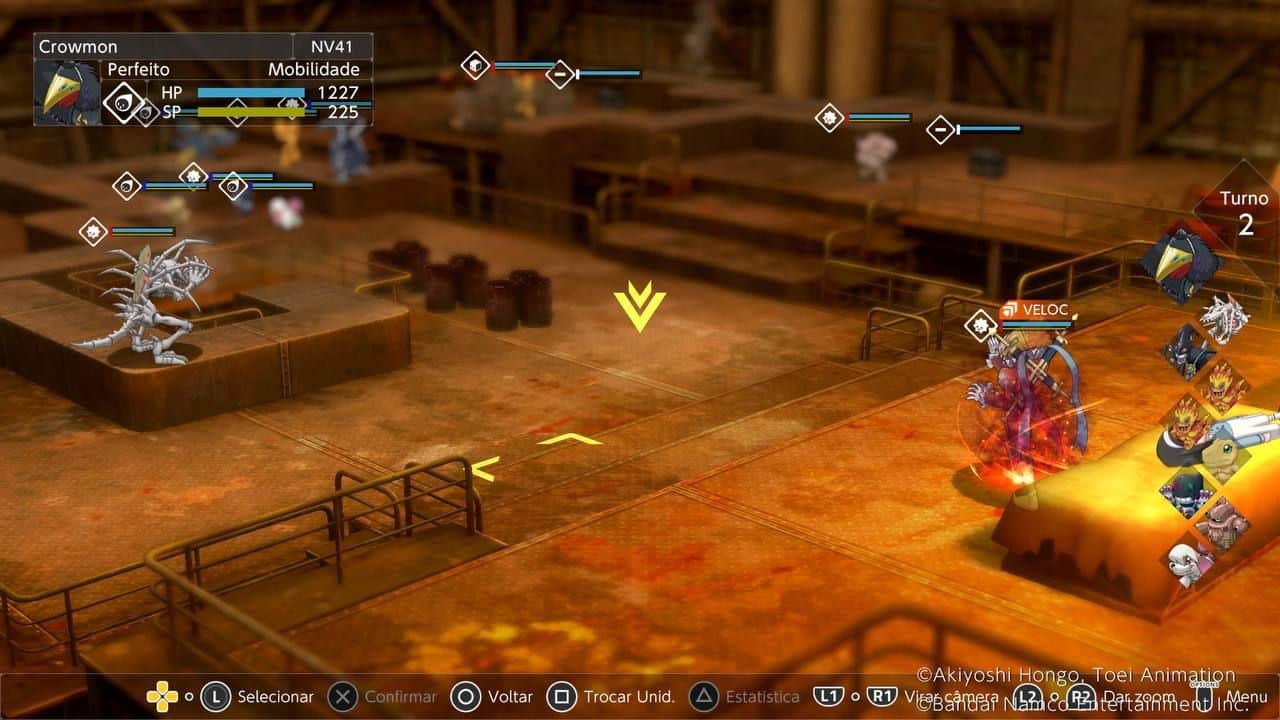 Unfortunately, the lack of love for the system is detrimental, as confrontations are when players open up to the tedium offered by dialogue in visual novels. Each Digimon has its own style – ranged or melee – traits, mobility and more, but the limited number of creatures (just under 120) and lack of stronger gameplay detracts from the overall experience.
The native charisma of the series
Digimon Survive is a very charismatic and attractive game with its technical and design elements. Although the plot is dark and often even scary, the game has its amazing production elements, such as the volatile and pleasant personality of the characters, excellent artistic quality and very interesting cutscenes.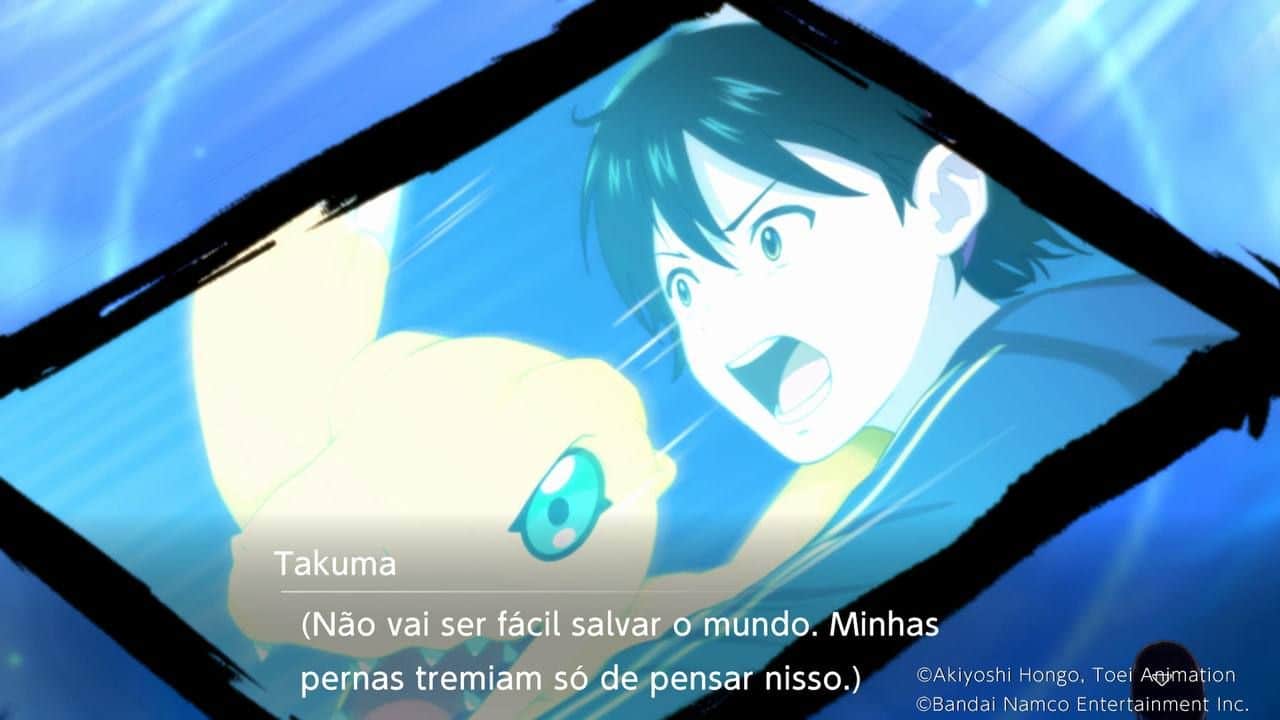 In the campaign, you can see how the characters change according to the circumstances. From there, it is necessary to communicate with them taking into account the new situation. Support when needed, fight, keep silent, make leadership decisions and even fear; Anything can contribute to karma and change team dynamics.
Other than that, making art and general hardware is quite enjoyable. The game has a great soundtrack, very well done character and creature designs – both in combat and animation scenes – and flawless voice acting. Digimon Survive is also 100% subtitled in Portuguese, including menus and other systems.
Digimon Survive: Worth it?
Digimon Survive is a contradiction in the gaming world. Fans of the series will enjoy the game, especially its mature concepts (horror and suspense), but the tedious visual novel model may detract from the experience.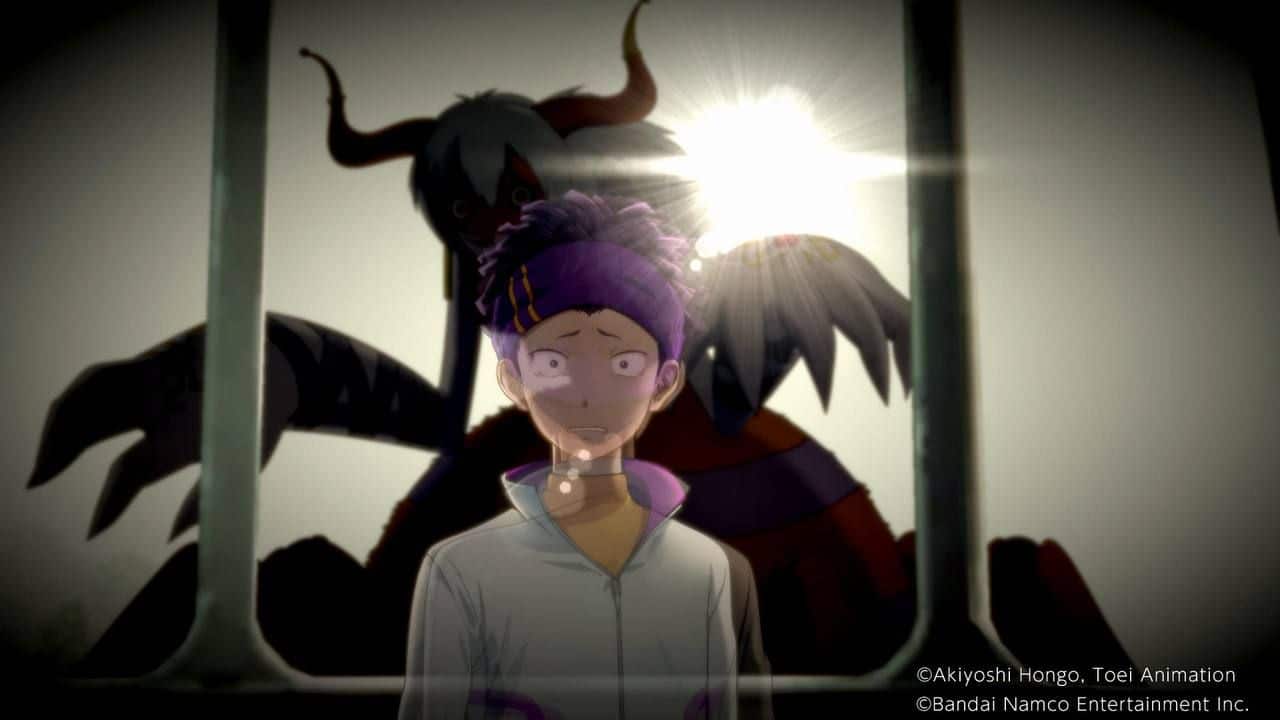 Its gameplay based on tactical battles will appeal to fans of the genre, but it is easy to tire of after a few hours of play. As such, it's worth it if you're looking for a revival in the series, both in terms of traditional animated clichés and massive exploration RPGs.
The game can be purchased on the PS Store for R$299 – a high price for a relatively simple title without much news. However, with almost 40 hours in the first campaign (and more than 100 for Platinizers), Bandai Namco's bet has everything to see and discuss.