No one likes to find misplaced items when entering a PlayStation for fun, right? If you have never used security measures on your PSN account, be careful. You can avoid inconvenience in your profile settings in a few seconds.
Of the team MeuPlayStation Bring seven interesting – and important – tips for inattentive people to observe and review their account management. Can you imagine playing a video game and receiving a surprise purchase notification? Or can you not even log in to your console client? Avoid them following the guide below:
Tips for protecting your PSN account
Create a strong password
Avoid using personal information such as your date of birth, your parents' names, etc. when creating a password for your PSN. If more people know your passwords, try creating a new combination and adding special characters such as "$" or "%", as this can be very helpful.
Turn on the option "Request a password when ordering"
To avoid "uncertain transactions" on your account, it is a good idea to activate the "Request password when ordering" option. The setting will be valid on all devices that have access to the PS Store. To do this, just follow these steps:
Go to Account Management;

Open the payment method;

Turn on the option "Request a password when ordering";
Configure the "Request password when logging in" option
Requiring a password to access your console profile is a way to avoid unnecessary fear if you share a video game with more players – especially children. Here's how to do it:
Go to settings;

Then go to "Users and Accounts (PS5)" and go to "Login Settings (PS4 / PS5)"

Now just set the password in the PS4 "Passcode Management" option or "Set a PS5 Login Passcode".
Add 2-step verification to your account
A second layer of security after entering the PSN can be useful. How about turning on 2-phase verification?
Open the "Settings" option;

Go to "Users and Accounts" and go to the "Security" tab

Include two-step verification in the menu;

Select whether to use the authentication application or receive codes via text message;

Don't forget to keep your backup codes in a safe place!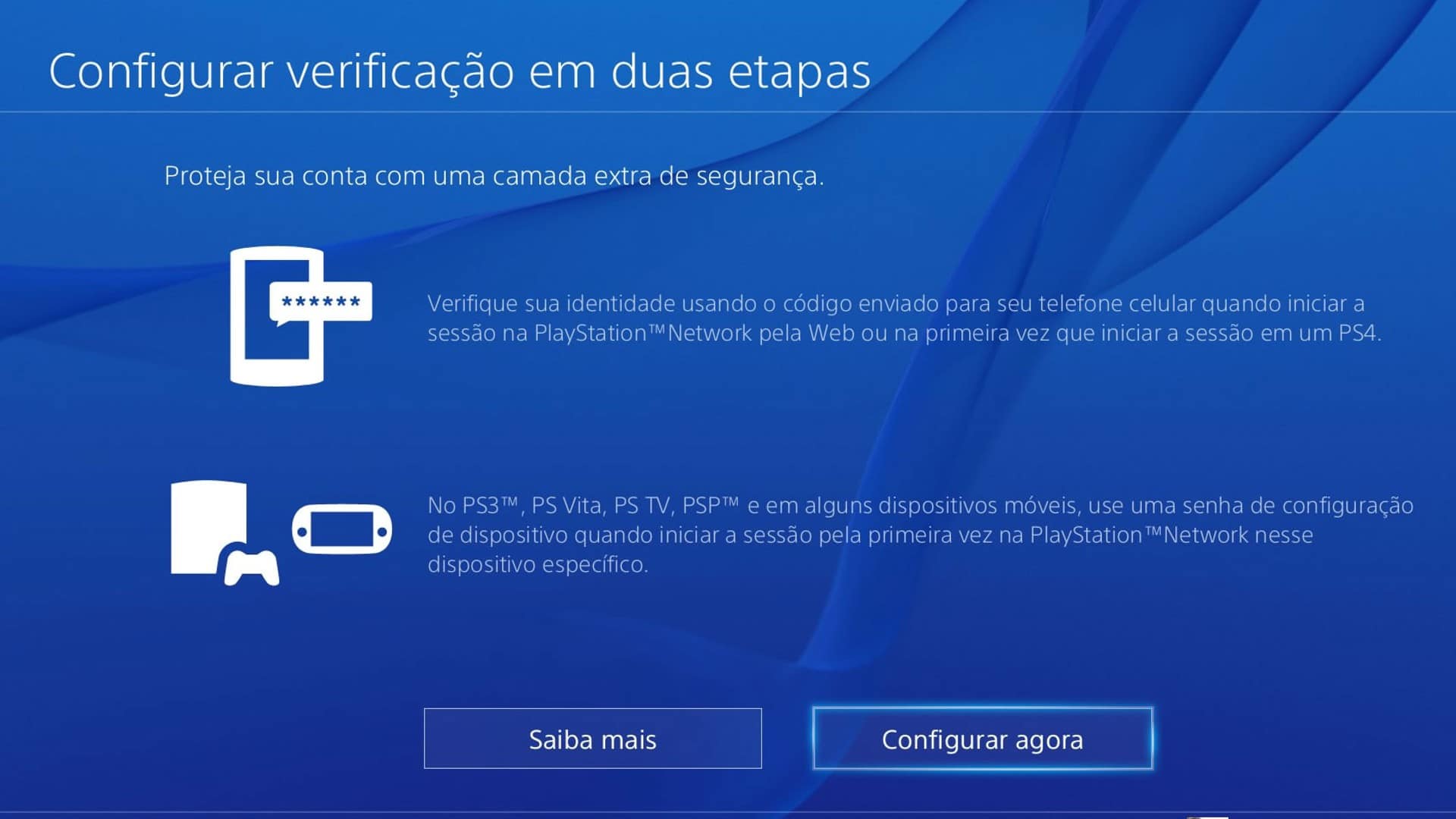 Never share your account details
In addition to violating PSN Terms of Service, account sharing practices are detrimental to the security of your account. Avoid sharing your password and other login information with more people as it is possible to change these items and prevent access to your profile.
Do not log in to shared devices
By logging in to your PlayStation account in different places open to the public, your information will be at risk. Choose to do this only on the systems you control or the people you trust.
Do not obey swindlers
Avoid fraudulent websites that offer free coins for your favorite games or PSN codes at questionable prices. Never share your information on such portals, or you may be denied access to your account – especially if you do not have the above settings enabled.